Overview
Volunteering helps you to meet new people, support your community, learn new skills, take on new challenges and have fun.
When volunteering is well managed, everyone benefits. We're here to help you find volunteers, support you with good practice, help you to develop your organisation to help the Bury Community and link you in to the network of local support.
To find out about the wide range of Volunteering Opportunities available in Bury, please visit the below link & click 'Opportunity Search' for current roles and how to register.
https://www.buryvcfa.org.uk/volunteering/
To view the our latest Volunteer Bulletin, please click the download link.
Volunteering towards Employment Project
Bury VCFA is pleased to announce our 'Volunteering towards Employment Project' (VtEP). VtEP aims to help participants in Bury who are unemployed or economically inactive to develop skills and confidence in a workplace environment by using volunteering to get closer to the jobs market. The European Social Fund (ESF) fund the project, which provides funding for employability and training projects.
Background
Bury VCFA currently offer a local online volunteering matching service across Bury which can be accessed via the Bury VCFA website. Potential volunteers are able to register their area of interest together with activities they would like to volunteer. This is picked up by volunteer seeking organisations via an automated matching process.
This project offers the opportunity to develop this aspect of volunteer recruitment to help the unemployed or economically inactive to embrace volunteering as a step towards employment.
Project Outline & Outcomes
The VtEP project is managed and delivered by the Bury VCFA. Under current government guidelines, the activities will take place online via Microsoft Teams meetings. Full details on how to use Microsoft Teams will be provided after successful enrolment on the project.
The aim of VtEP is for participants to use volunteering experience as a step towards gaining employment. Outcomes may then be that the participants volunteering experience could ultimately lead on future employment and/or progression into Further Education or training to gain further skills to support their employability. Each participant will receive a minimum of 6 hour's free support. Individuals will also be encouraged to continue with non-guided learning at home where appropriate.
Eligibility and how to join VtEP
We are looking to work with participants who are unemployed or economically inactive aged 18 years and over who may be from groups such as:
Single parents

People aged 50 and over

People from ethnic minorities

People with disabilities and health conditions

Women
Participants should also be resident in the Borough of Bury and will be required to prove their identification and legal right to work in the UK.
Please note participants will require an e-mail address, pc/laptop with internet/wi-fi access. The project will be delivered through Microsoft Teams - participants will be required to have access to audio devices (speakers, headset etc) and recommended computer/headset microphone with a webcam or laptop camera.
To apply to join the VtEP project please e-mail volunteering@buryvcfa.org.uk for the enrolment form and application details.
For further information on VtEP, please view the project poster or click here:
Information
Bury & Local Area
All ages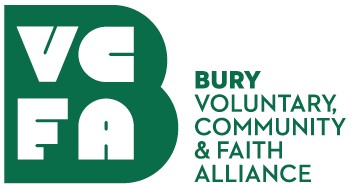 3rd Floor St Johns House, 148 The Rock, BL9 0ND
Last Updated
08 April 2021