Report Incorrect Information
Please tell us about any information in this record that appears to be incorrect or out of date. Your feedback will be reviewed by the Bury Directory team.
Staysure Insurance - Accessible Winter Resorts

Staysure Insurance - Accessible Winter Resorts
Winter Sports Resorts have increasingly become more accessible to a wider variety of users. However, it may be difficult to find out where to start when looking for an accessible winter break. Staysure's winter sports tool can be used by anyone who may have a disability or challenging condition to help them find the most suitable resort based on a winter sports selection.
The interactive accessible winter sports tool provides useful information about the types of adaptive equipment that could be used, find out if specialised instruction or nearby medical facilities could be accessed at many resorts based in Europe.
This is a handy guide for those looking to start skiing with their friends or family but require some additional assistance (such as adaptive ski lessons) and are unsure what their best options are.
The tool provides you with information to help you decide on the most suitable winter resort in Europe for a range of disabilities, learning difficulties or conditions such as :
Autism (

ASD

)

Learning Difficulties

Epilepsy

Hemiplegia

Spina Bifida

Paraplegic and Tetraplegic

Amputee

Parkinson's Disease

Stroke

Organ Transplant

Epilepsy

Parkinson's Disease

Multiple Sclerosis

Cancer

Blind & Visually Impaired

Deaf or Hard of Hearing

Down's Syndrome
Depending on your selection, you will be given information about the most suitable resort options, types of slopes (beginner, intermediate or advanced) and lifts you will find, accommodation or facilities within each winter resort and any other notable features that will make sure that someone gets the best and most comfortable winter sports experience.
Also provided is information about resort or lift-pass discounts that may be available, ski schools who provide specialised training for specific equipment e.g. adaptive dual ski and other useful information that may be needed such as resort altitude (something you may have to take into consideration if you have recently had surgery or treatment).
Contact Details
Organiser Address

3-5 Rushmills Business Park, Bedford road, Northampton

NN4 7YB

Email Address
Location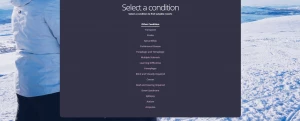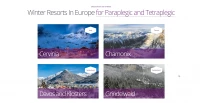 Service Information
Physical impairment, Learning difficulties, Autism, Visual impairment, Hearing impairment, Mental health conditions, Communication impairment
Last updated 24th April 2020