The Bury Directory
Explore
The Bury Directory
Thousands of activities, services and events across the Borough of Bury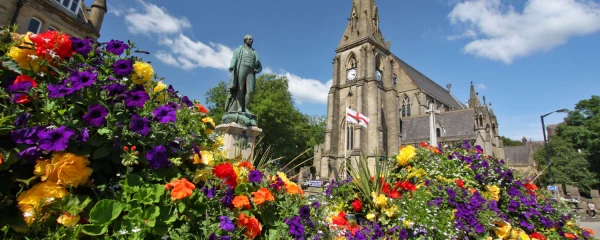 Welcome to the Bury Directory
Connecting people, communities, and local services throughout Bury.
We care about Bury and our communities and want to empower you and your family to live a happier and healthier life.
We aim to bring together everything you need to live a happier and healthier life in Bury, all in one place. You can find services, information, advice, events, activities, and support that is available for people living within the borough of Bury, including Whitefield, Radcliffe, Prestwich, Tottington and Ramsbottom.
You can find what you are looking for by browsing our main categories, Adult Social Care, Children, Young People & Families, and Health, Wellbeing & Lifestyle, or use our onsite search tool. You can also use the onsite navigation, located at the top of every page to explore other useful sections.
We also have areas of the website dedicated to support unpaid carers, children and families with special educational needs and disabilities, and care leavers living in Bury.
Why not take a look at our What's On in Bury section to find activities and events happening in and around Bury?
Did you know you can list your service or upcoming event with us here on The Bury Directory for free? If you have any questions or require further support, you can contact us today.
Your Journey Starts Here
Discover a wealth of services, activities, information and support available to you and your family in Bury, supporting you to live a happier and healthier life.
What's On
Explore different events that are on in your area
There are many fitness and wellbeing classes available, each one...

CAT (Christian Activities Together) is a friendly, established and welcoming...

Join us at the Jubilee Centre on Tuesday at 12.15...

What is a 'bike library'? Bike libraries are local hubs...

Dance Like a Mother - Parent & Baby Class Manchester's...

DLAM Dance Fit is the most fun you can have...

Prestwich: Arrest after cars damaged near Palestinian Flag Prestwich: Arrest after cars damaged near Palestinian Flag