Bury Red Door exists to give dignity and hope to people in crisis.
Specifically, Bury Red Door supports homeless and vulnerable individuals within the borough of Bury to help them to find both temporary and permanent accommodation, support clients in accessing external services and ensuring all benefits are applied for.
During the Coronavirus outbreak we will be on site 10.00 am – 1.00 pm on a Tuesday only although the community room will not be open to the public. We can offer hot soup or a hot drink between 12 and 1.00.
Our telephone will be answered all week and we will take referrals for emergency food parcels dependent on need – please ring for further advice. We will maintain a 2 metre distance at all times.
Anyone needing to access us on a Tuesday between these times who cannot telephone should use the front door bell. We will require the 2 metre distancing to be observed.
We will also be available to offer advice.
Unfortunately our shower, washing and drying facilities and drop in will not be available.
Donations can be brought on Tuesdays between 10am and 1pm as above.
You can support Red Door by following us on social media.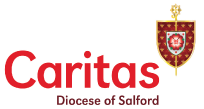 Address

St Joseph's Church Presbytery
Peter Street , Bury ,