Overview
Bury VCFA provides a wide range of services for VCF organisations and volunteers in Bury. Our aim is to enhance community and voluntary action through resilient VCF sector that actively collaborates to support residents and local communities. We help groups with:
Development Support

Information Dissemination

Commissioning Support

Representation

Volunteering

Income Generation
Our services include:
Organisation Development Support- Advice on how to better manage and run your organisation
Funding Database - Provide access to funding available nationally
Good Practice Guides - on line self-help guides on governance, finance, management & business planning
Volunteering Support - help recruit volunteers and promote volunteering
Lead contractor - Act as a consortium lead to secure tenders and help smaller groups
E-newsletter - Keep the VCF sector up to date on local issues and funding opportunities
Strategic Representation - Act as the voice of the VCF at strategic meeting and networks in Bury and Greater Manchester
Grant Funds - Manage local grant funds to provide local finding opportunities
Bury Community Fund - Develop a local grant funding pot through Corporate Social Responsibility partnerships with the private sector
COVID-19 Bury VCFA News Bulletin & Important Updates:
If you would like to receive regular Covid-19 news and updates from Bury VCFA, Bury Council, Care Services & Greater Manchester & National organisations, please e-mail admin@buryvcfa.org.uk to subscribe to the mailing list.
Bury VCFA Volunteering:
Please visit our Volunteering Bury Directory page here: Bury Volunteer Centre | The Bury Directory
Bury VCFA Funding and Development:
Please visit our Funding Bury Directory page here: VCFA Funding Bulletin | The Bury Directory
Social Prescribing Beacon Service:
The Beacon Service is a Social Prescribing Service whom work as part of the Bury VCFA.
The service is here to support those who:
Are Adults who are aged 18 + and registered with a Bury

GP

Are Lonely or isolated

Have social needs that affect their wellbeing

Need support with their mental health

Have one or more long term condition
If you like to find out further information on the Beacon Service, please click the below link::
Information
Bury & Local Area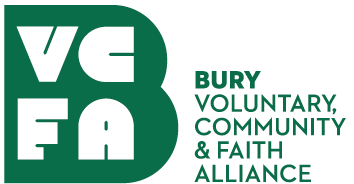 3rd Floor St Johns House, 148 The Rock, BL9 0ND
Last Updated
08 April 2021