Report Incorrect Information
Please tell us about any information in this record that appears to be incorrect or out of date. Your feedback will be reviewed by the Bury Directory team.
BURY2GETHER

Shaping SEND Services with Bury Families
BURY2GETHER is a Forum for Parent/Carers of Children/Young People, aged 0-25 with SEND (Special Educational Needs and Disabilities), who access services in Bury.
BURY2GETHER has a Steering Group of representative parent/carers, who are experts by experience. They represent the collective views of Parent/Carers, to boards and groups within Bury Council and Clinical Commissioning Group.
BURY2GETHER is keen to hear the views and experiences of Parents/Carers and use them to help shape and inform SEND Services across Bury.
We want the forum to be as representative as possible, so we encourage all Parent/Carers to join our membership at: www.bury2gether.co.uk/membership
Members will:
Receive updates and newsletters via email.
Receive surveys and details of consultations.
Be signposted to the latest events and workshops.
Have access to our members only, Facebook support group. Where Parent/Carers can get peer to peer support.
Facebook Information Page: www.facebook.com/BURY2GETHER
Facebook 'Group CHAT' (Parents/Carers only): www.facebook.com/groups/Bury2Gether
Twitter: www.twitter.com/BURY2GETHER
Email: BURY2GETHER@gmail.com
Website: BURY2GETHER.co.uk
Contact Details
Organiser Address

Bury SEND Hub, Westminster Avenue

M26 3WD

Email Address
Location
Times & Dates
Session Information

The BURY2GETHER Centre is open by appointment only for events. Please see our Facebook page for the latest events. www.facebook.com/BURY2GETHER
Local Offer
Contact Email

bury2gether@gmail.com

Details

This service/organisation is part of the SEND Local Offer Bury, please contact us for further information.

Age Bands

16-25 years, 11-15 years, 6-10 years, 0-5 years

Core Response Approved?

Yes
Notes
Referral Notes
Available to all Parent/Carers borough wide, who have a Child/Young Person aged 0-25 who has SEND, Special Educational Needs or Disabilities. To become a member, please sign up at: www.BURY2GETHER.co.uk/membership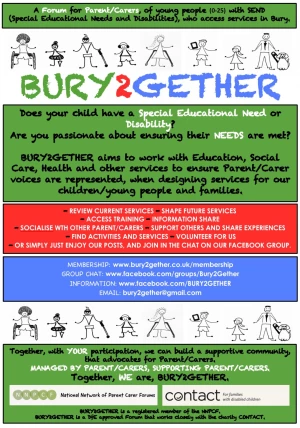 Last updated 24th April 2020