Oakhouse Foods Greater Manchester is based in Bury, and we supply the finest quality frozen ready meals. Our meals are all cooked in the traditional way, before being Quick-frozen to lock in the freshness. We've selected over 300 deliciously varied meals & desserts for our range, we also offer a wide selection of mini meals for customers with a smaller appetite. We don't use and artificial colours, flavours or MSG in any of them.
We can offer any next day delivery throughout the Bury area (Monday- Friday) or should you prefer you can collect from our warehouse located next to the Village hotel.
If you would like us to send you a brochure please call us on 0161 761 1664 or visit us online at www.oakhousefoods.co.uk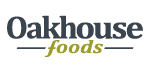 Address

Oakhouse Foods
Unit C2, Oakhouse Foods , Waterfold Park , Lancashire

Notes

Our unit is located direcly behind the Waterfold Farm Pub.