Overview
Pennine Care NHS Foundation Trust is proud to provide mental health and Learning Disability services to people across Greater Manchester.
They serve a population of 1.3 million and their vision is a happier and more hopeful life for everyone in the local communities.
More than 4000 dedicated and skilled staff deliver care, from around 200 different locations in five boroughs.
In Bury, they provide services for both adults and children. Click here to visit their website.
Information
18+
Bury & Local Area
Adults, Older people (over 65)
Learning difficulties, Autism, Mental health conditions, Dementia, Alcohol/Substance misuse
Requirements
Yes
Self referral
GP
Health professional
Social care professional
Optional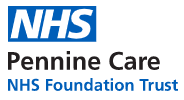 Pennine Care Nhs Foundation Trust 225, Old Street, Ashton-under-lyne, OL6 7SR
Address
Pennine Care Nhs Foundation Trust, 225, Old Street, Ashton-under-lyne
Last Updated
11 October 2021