Overview
Respond exists in order to: lessen the effect of trauma and abuse on people with learning disabilities their families and supporters.
We aim to make a real difference to people with learning disabilities by providing effective and flexible support to help them to improve their lives.

Respond works with children and adults with learning disabilities who have experienced
abuse or trauma, as well as those who have abused others, through psychotherapy, advocacy, campaigning and other support. Respond also aims to prevent abuse by providing training, consultancy and research.
Information
National
Local Offer
This service/organisation is part of the Local Offer, please contact us for further information
16-25 years, 11-15 years, 6-10 years, 0-5 years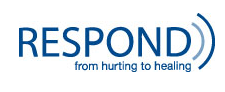 Last Updated
05 June 2020