Overview
Breakthrough UK runs a Community Connecting project, supporting disabled people to become more involved in their communities.
If you'd like to get out and do things you love, but feel there are reasons stopping you - we can work with you to overcome this.
The project runs for 16 weeks. You will meet with a Community Connector and talk about what interests you. You will then work with them to go to your chosen activities together.
Activities could include travel training if public transport is a barrier for you.
We have lots to tell you about this brilliant project, so please contact us to find out more!
Information
North West
Requirements
No
You can self-refer simply by contacting us.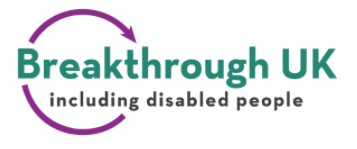 The Kevin Hyett Suite, Abraham Moss Centre Crescent Road, Crumpsall, Greater Manchester, M8 5UF
Breakthrough UK registered office.
Community Connecting is a community based service and activities will not take place at this venue.
Position
Community Connector
Address
The Kevin Hyett Suite, Abraham Moss Centre, Crescent Road, Crumpsall, Greater Manchester
Last Updated
15 June 2021