Overview
This information is provided by the Oral Health Promotion Team.
Public Health England
On this pageyou will find links to a range of digital resources from Public Health England's campaign resource centre which are available for dental professionals to use in their practices, some of these may also be useful for EYFS providers, Children's Centres and Schools. The resources are available to download or order, such as leaflets, posters, guides and resource packs for all campaigns
In this section you will find Change4Life resources for teachers to use in a classroom setting.
'Keeping our teeth healthy'
healthy-teeth-lesson-plans are now available from Public Health England as part of its Change4life campaign. There are two plans, one aimed at five to seven-year-olds and one for seven to eleven-year-olds. The presentations use a simple science experiment to introduce the idea of how sugary drinks can affect teeth.
Information
National
Files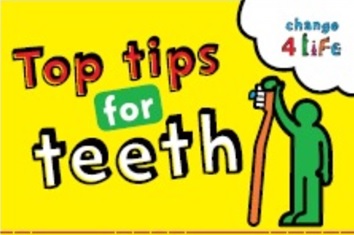 Moorgate Primary Care Centre, 22 Derby Way, Bury, BL9 0NJ
Position
Oral Health Promotion Officer
Address
Moorgate Primary Care Centre, 22 Derby Way, Bury
Last Updated
25 August 2020