Overview
The Educational Psychologists Service is part of Local Authority Inclusion Services.
Educational Psychologists work in partnership with families, schools, settings and other professionals to achieve positive outcomes for children and young people aged 0-25 years old where there are potential barriers to learning. Sometimes a school or setting might ask an Educational Psychologist to become involved to support children and young people who have needs in any of the following areas:
Play and/ learning;

Speech and language (communication);

Social interaction (social skills);

Emotional development/mental health needs;

Physical (fine/gross motor, medical conditions);

Sensory needs (hearing, vision, sensory sensitivities).
Educational Psychologists (often known as EPs) aim to help others meet children and young people's needs in an informed and inclusive manner. We usually work through cycles of Assess-Plan-Do-Review.
Bury Educational Psychology Service (EPS) is currently working in partnership with Salford EPS and Tameside EPS. Educational Psychologists from these three services work across all areas, to share good practice and project work.
Time & Dates
The service is available Monday to Friday 9am to 5pm
Covid-19 Helpline: Bury EPS recognise the current situation with COVID-19 is a very worrying time for parents and carers, and even more so for parents and carers who have children or young people with Special Educational Needs and/or Disability (SEND). We have established a helpline for parents/ carers and schools. The helpline is intended to provide EP advice and support for schools/parents of children and young people with SEND in the context of the current situation that exists due to the Covid-19 outbreak. It runs twice a week on Mondays between 13.00 and 15.30 and Wednesday between 9.30 and 12.00. The helpline contact number is 0161 253 6406. Please see the Files area below for more information.
Information
0 - 25
Bury & Local Area
All ages
Physical impairment, Learning difficulties, Autism, Visual impairment, Hearing impairment, Mental health conditions, Communication impairment
Requirements
Yes
Schools/settings access this service through completion of the "Request for Involvement Form". Although, arrangements can be made for specific pieces of work with any interested client group.
Local Offer
Local Authority Projects

Bury EPS are currently delivering the Wellbeing for Education Return programme, a Department for Education (DfE) funded project to support wellbeing in schools and colleges during the COVID-19 pandemic. More information about this project and other COVID-19 specific resources for schools and parents/ carers can be found on the Emotionally Friendly Schools Website: Wellbeing Return to Education (WER) | Emotionally Friendly Settings

Seeking EP support:

If you have particular concerns about your child you may want to discuss these with your child's Class Teacher/Key Person and/or Special Educational Needs Coordinator (SENCo). The SENCo may then request EP involvement if they would like further support and advice.
If EP involvement is appropriate, a member of school/setting staff will speak to you about how we might help your child and you will be asked if you would like to go ahead with EP involvement.

If you have any questions about our involvement you can ask staff or contact the EP service directly using the details below.

The school/setting will arrange our visit.
During EP involvement:
We will want to meet with you and school/setting staff to find out about your child's interests, strengths, needs and future goals and aspirations. You know your child best so your views are invaluable in developing an understanding of their strengths and needs. Please see the Guide to Bury EPS in the Files area for more information about how we work with schools and families.
16-25 years, 11-15 years, 6-10 years, 0-5 years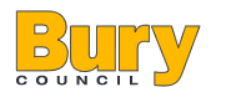 Educational Psychology Service
3 Knowsley Place, Duke Street, Bury, BL9 0EJ
Address
3 Knowsley Place, Duke Street, Bury
Last Updated
17 February 2021