Overview
The Disability Services team provide an Assessment and recommendation service for the provision of equipment and adaptations for residents of Bury with a disability.
The team of Occupational Therapists and Assessment Officers can provide a specialist assessment for individuals and their carers, and they can identify equipment or adaptations which make it easier for you to continue living independently in your own home.
If you are assessed as requiring a piece of equipment they will arrange for the Community Equipment Store to deliver and install it in your home. They also make recommendations for major adaptation's to your home, the funding of these may require a means tested grant.
All the help offered is based on individual needs, and the service is available to people of all ages.
You may self refer via the contact number below, and they will pass the referral on to us, you will then be contacted by our Duty Officer to gain more information about your needs, before an Assessment visit is made to your home.
Time & Dates
Service is open Monday - Friday 7:30 - 17:30
Information
Bury & Local Area
All ages
Physical impairment, Learning difficulties, Visual impairment, Communication impairment
Requirements
Yes
Local Offer
Our service/organisation is part of the Local Offer, please contact us for further information
16-25 years, 11-15 years, 6-10 years, 0-5 years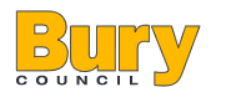 Address
Disability Services Team, Unit 6b & 6c, Bridge Street Trading Estate; Bolton Road Bury
Related Information & Advice Pages
Last Updated
06 January 2021